Welcome to the ordering website for Lost Barn Farm in Putney, VT.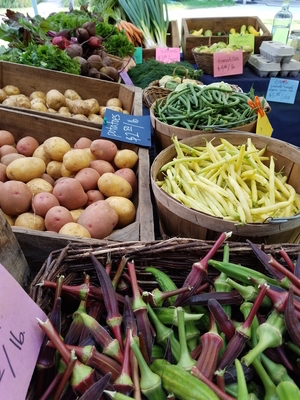 We are a small, family-owned, diversified vegetable farm and CSA in the Connecticut River Valley of Southern Vermont. We are committed to growing food that creates, nurtures and sustains community.  Visit our main website to learn more about our farm, including how we got our name!
Follow us on Facebook
to see photos and hear about the latest farm happenings.
---
 
We operate a CSA and attend three Farmers' Markets a week from Memorial Day thru Columbus Day:


Brattleboro Area Farmers' Market : Saturdays, 10:00-2:00, May 9 -Oct 31 (Route 9 near the Covered Bridge, exit 2 off I-91)
Downtown Farmers Market : Tuesdays, 4:00-6:00, June 2 - Oct 6 (New England Youth Theater, 100 Flat St, downtown Brattleboro)
Putney Farmers' Market : Sundays, 11:00-1:00, May 24-Oct 11 (Route 5 and Carol Brown Way, across from Putney Food Co-op)
We will be offering pre-order pick up at all three market locations, as well as farm pick up on Saturdays 10:00-12:00 and Tuesdays 5:00-6:00. 
Product Availability
Ordering for Saturday pick up will be open from Wed morning until 8 pm Thu.  
Ordering for Tuesday pick up will begin May 30 and will be open from Sat evening until Monday at noon.
Ordering for Sunday pick up will be thru the Putney Farmers' Market ordering site, and will be open from Wed morning to Sat morning.
To see the products we have available at this moment, simply click on any product categories to the left. There is currently no minimum order size.  You can order anything you see listed.
Naturally, our inventory is changing all the time, as our supply of products is dictated by the seasons. We will do our best to keep inventories up to date.  We have to set the inventory days ahead of harvest and sometimes we won't get it right and items won't be available or others will be added.  We'll let you know about these things by email if they occur.
---
We Appreciate Your Support

We are interested in growing community as well as fruits and veggies and we are working on ways to do that with current social distancing restrictions. We set up this online ordering system to make it easier to make and keep connections between you - our customers, friends and neighbors - and us on the farm.
We are new to this type of system, so please have patience with us as we do our best to keep up to date inventories and information.  Pick up protocols will likely fluctuate throughout the season as the markets fine tune their systems, and we will get you the updates as we receive them.
Please order from us with the knowledge that your purchase does so much more than provide a meal for you and your family. It also preserves working land in our community, helps sequester carbon in the soil, supports a family-owned farm business, and keeps your dollars circulating in our community. We appreciate your faith and support and look forward to connecting with you.